Comment
Hand dyed origami papers in this package are actually yuzen washi origami papers named "Kosai" in Japanese,
because it means crimson red colored, which refers to the powerful red color of the origami papers contained
in the set. The main characteristic of these papers is that they are hand dyed by skilled Japanese craftsmen,
using traditional methods passed on from fater to son from the old times.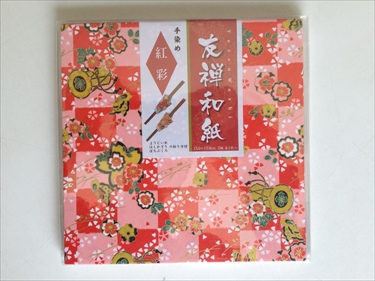 Product Details
| | |
| --- | --- |
| Type | Hand dyed origami paper |
| Theme | Crimson red colored traditional Japanese pattern |
| Material: | Wood pulp |
| Place of origin: | Japan |
| Model Number | OHX-005 |
| Patterns | 5 different patterns |
| Sheet size | 150 x 150mm |
| Sheets / set: | 5 pcs |
| Packaging: | Transparent plastic foil |
| Quality: | High quality, perfect for origami enthusiasts |
We can give you a discount!please contact us!
Packaging & Delivery
| | |
| --- | --- |
| Packaging Details: | Standard & safe packing upon your request! |
| Delivery Time: | 5-30 days after the order confirmation |
Features

Hand dyed origami is an exceptional origami paper without doubt, but what is exatly origami?
"Ori" means folding, gami (or rather kami) means paper, so origami literally means folding paper.
Normally the use of glue or cuts are not allowed and art pieces made by these techniques are not considered to be origami works.
When glue and cuts are used in the process then it is usually called kirigami.
Although origami is generally considered to be of a Japanese origin, there are evidences that other cultures around the world had their independent traditions of paper folding.
The list of things that could be made by hand dyed origami is endless, but please let us name some that are used in our everyday lives:
paper cup, salt keeper, book cover, gift wrap, flower wrap, candy wrap, chopsticks wrap, utensil wrap, gift decoration, gift box, snack box, envelope, toothpick holder, and a wallet (kirigami):

So what would be the ultimate goal of origami again?
To extend the boundaries of what you could create out of a single piece of uncut paper.
How about giving it a try?
We could supply you ANY kind of hand dyed origami papers.
Just tell us what you are looking for.
We will get it for you!

This is how the package of the hand dyed origami is consisting of yuzen washi paper looks like: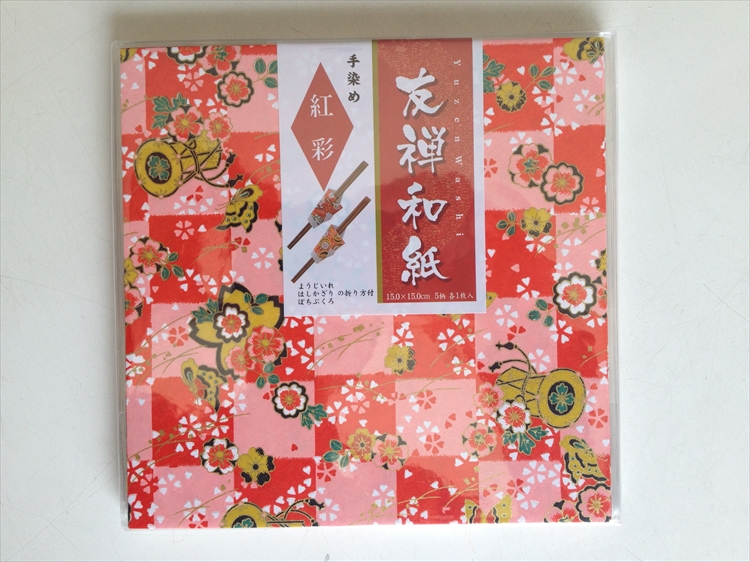 You can find some origami instructions on the packside of the package: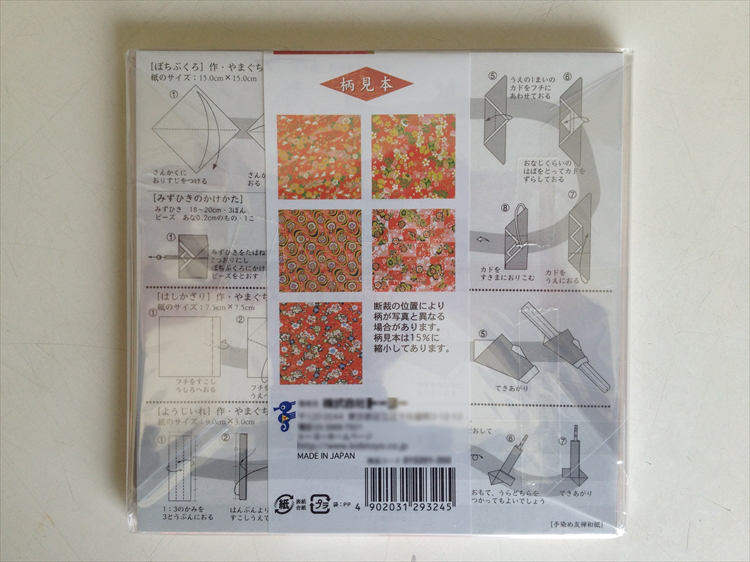 Two packs of hand dyed origami paper set lying disordered on the table: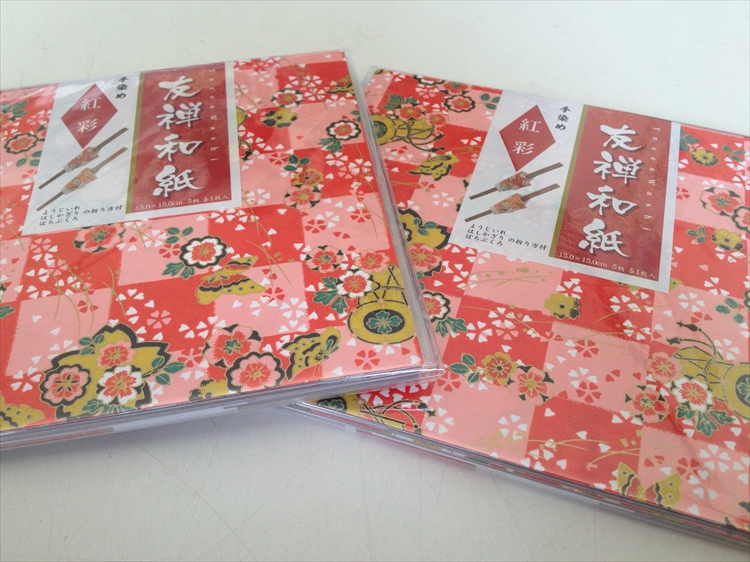 Finally a closeup on the package: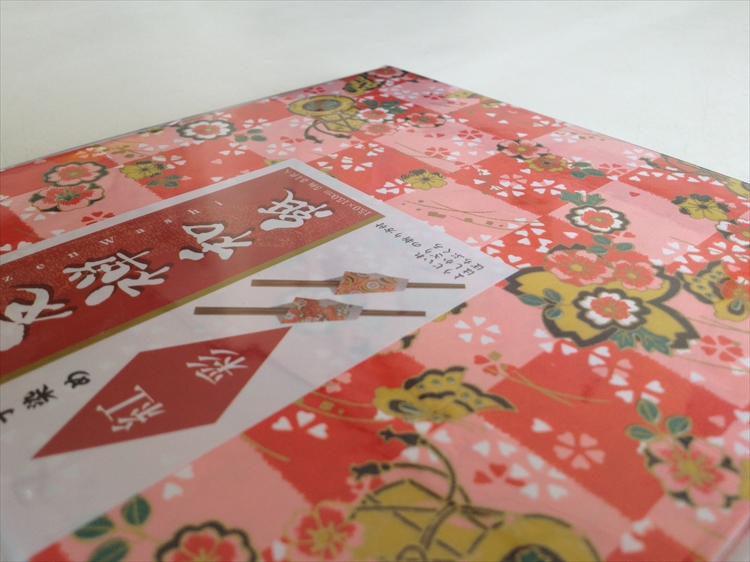 After all, what makes hand dyed origami special is that it's carefully dyed by the hand of a skill Japanese craftsman,
and thanks to this processing by hand, there will inevitably be subtle differences in the colors and the patters which
results in a surprisingly natural, harmonious look. If you come to think about it nature has it's own subtle differences
in pattern which is exactly the reson why you feel those natural, wheras completely machine made patterns tend to look
artificial. Hand dying does really make a difference!
Nature and dying by hand goes hand in hand!
Please try our hand dyed origami papers and check how you feel when you look on them!
Our service
We are a professional Event Organizer Company. Day-by-day, we are handling many items which are somehow in connection with some of our events.
Our motto is: "If YOU are HAPPY, then WE are HAPPY!" which is abbreviated to:YOU HAPPY WE HAPPY.
…for us, this motto has a simple and practical meaning that:
Our customer's happiness IS our happiness!
Concretely, our spectrum of items consists of: Advertising Equipment,Apparel, Consumer Electronics, Funny good, Office School supplies, Restaurant Hotel supplies and others.
Mainly, we are specialized in selling products that are either MADE IN JAPAN or manufactured under JAPANESE SUPERVISION, which means that all items are of:
-outstanding, durable quality
-fine craftsmanship
-unique design
Presently, we are dealing with over 5000 items.
Achievements
Our company was founded in 1991.
Nowadays we are doing business with many major Japanese companies and up to now, we have organized more than 10,000 famous events in Japan.
Regarding international business, we have widened our sphere of action in order to reach people abroad without limits and boundaries.
To accomplish this goal, we have planted many seeds, and the shoots have already started growing out of the soil. As a result, we already have customers from New York City, Singapore and so on. In the meantime, we are planting more and more seeds, and waiting for all of them to sprout!