Japanese Mechanical Pencil
Comment
Japanese Mechanical Pencil will protect the writing lead at all times.
Do you often happen to drop your mechanical pencil?
Ever longed for a mechanical pencil that doesn't break the lead even if you drop it?
This Japanese mechanical pencil may be right the one that you were dreaming of!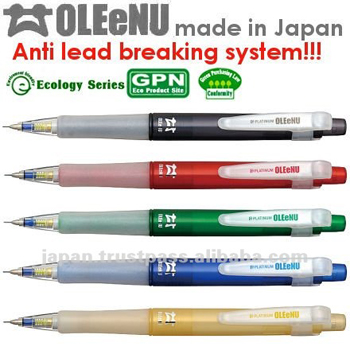 Product Details
| | |
| --- | --- |
| Type | Mechanical Pencils |
| Body Material | Biodegradable Plastic(mainly) |
| Packaging | Loose |
| Lead Hardness | HB / B / 2B |
| Place of Origin | Japan |
| Brand Name | Platinum |
| Model Number | PLN-001 |
| System | Knock type (OLEeNU) |
| Colors | Black, Red, Green, Blue, Yellow |
| Lead Width | 0.5mm |
| Size | L139.5 x D12mm |
| Weight | 9.7g |
| Main Material | Knock, body, tip part: Biodegradable ABS Plastic |
| Other Materials | Taper: PMMA, Grip: synthetic rubber, Clip ring: PC |
| Eraser | Equipped |
| Custom Label | Available (on the body of the mechanical pencil) |
| Printing Methods | Silk Printing, Pad Printing |
We can give you a discount!please contact us!
Packaging & Delivery
| | |
| --- | --- |
| Packaging Details: | Standard & safe packing upon your request! |
| Delivery Time: | 5-30 days after the order confirmation |
Features
Japanese Mechanical Pencil features a newly developed "Anti lead breaking" system that does what its name say:
Doesn't let the lead break!!!
The Japanese OLEeNU series that is named after the term "doesn't break" in Japanese features this system that protects the lead from breaking quite effectively in cases like dropping the pencil or pushing it too hard against the paper.
Japanese Mechanical Pencil of the OLEeNU series is since it is made mainly from biodegradable plastic so these items are accredited as eco items by JBPA (Japan BioPlastics Association)
@What are "Biodegradable Plastics" used for our Japanese Mechanical Pencil?
They are plastics that have the same features under normal conditions, but they could be broken down to water and carbon dioxide by microorganisms just like wood and cotton after they are not used any more. Therefore they won't increase the amount of plastic wastes that threaten the lives of wild animals, pollute our environment. Items that are made of Biodegradable Plastics bear a distinctive seal. These plastics have a natural life cycle, so they are often called "Green Plastics".
@What are "Bioplastics"?
Bioplastics are a type of plastics that is made of renewable biomass sources, such as vegetable fats/oils, corn or pea starch, microbiota. In comparison, common plastics are made of petroleum. The use of fossil based resources and the increasing concentration of carbon dioxide in the atmosphere could be restrained by using these plastics instead of the common ones. Items that are manufactured of plastics derived from biomass bear a distinctive seal.
The difference is OBVIOUS!
| | |
| --- | --- |
| A conventional mechanical pencil: | OLEeNU system mechanical pencil: |
FEATURE #1: OLEeNU Guard
OLEeNU guard of our Japanese Mechanical Pencil holds the lead firmly all around thanks to the newly invented parts.
These parts protect the lead even when the knock moves, since they move as well and propel the lead forward.
FEATURE #2: Safety Spring
Sometimes people tend to push the mechanical pencils too hard on the paper, which makes the lead of conventional mechanical pencils break for sure. Our Japanese Mechanical Pencil incorporates the OLEeNU system thanks to which the lead of the mechanical pencil won't break easily even under such circumstances since the Safety Spring of the system absorbs the excess pressure.

Japanese brush pen "Wood" (Top Quality Weasel Hair)

Origami Paper Set

Japanese Happi Coat & Headband
(Traditional Festival Waar)

Japanese Scarf Towel
(Organic Cotton)

Face Oil Blotting Paper

Colorful Origami Folding Paper

Japanese Wooden Sake Cup(Masu)

Echizen Washi Origami Paper Set(20 sheets)

Kosai – Hand dyed yuzen washi origami paper set (5 sheets)

Six-panel golden Japanese folding screen

Flower pattern Japanese cotton towels (9 designs)

Jet type open face motorcycle helmet
Our service
We are a professional Event Organizer Company. Day-by-day, we are handling many items which are somehow in connection with some of our events.
Our motto is: "If YOU are HAPPY, then WE are HAPPY!" which is abbreviated to:YOU HAPPY WE HAPPY.
…for us, this motto has a simple and practical meaning that:
Our customer's happiness IS our happiness!
Concretely, our spectrum of items consists of: Advertising Equipment,Apparel, Consumer Electronics, Funny good, Office School supplies, Restaurant Hotel supplies and others.
Mainly, we are specialized in selling products that are either MADE IN JAPAN or manufactured under JAPANESE SUPERVISION, which means that all items are of:
-outstanding, durable quality
-fine craftsmanship
-unique design
Presently, we are dealing with over 5000 items.
Achievements
Our company was founded in 1991.
Nowadays we are doing business with many major Japanese companies and up to now, we have organized more than 10,000 famous events in Japan.
Regarding international business, we have widened our sphere of action in order to reach people abroad without limits and boundaries.
To accomplish this goal, we have planted many seeds, and the shoots have already started growing out of the soil. As a result, we already have customers from New York City, Singapore and so on. In the meantime, we are planting more and more seeds, and waiting for all of them to sprout!