Kaimei brush pen refill cartridge pack (10pcs)
Comment
Take care to always keep some refill cartridges at hand since the ink could dry up in the tip of your Kaimei brush
pens after a while if you don't replace the empty cartridge in time. In case you can't replace the empty cartridge
in time, please wash the bistles of your Kaimei brushpen with water so that the remaining ink don't damage them.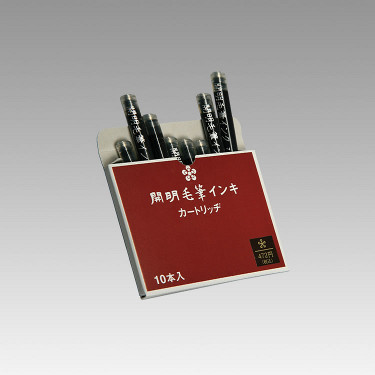 Product Details
| | |
| --- | --- |
| Brand name: | Kaimei |
| Type: | Refill cartridge |
| Ink color: | Black, Red |
| Ink type: | Carbon ink (sumi) |
| Water resistance: | Not water resistant |
| Refill cartridge size: | H60 x W7 x D7mm |
| Pack size: | H60 x W77 x D10mm |
| Packed weight: | 27g |
| Refill cartriges / pack: | 10 pieces |
| Packing material: | Paper box |
| Compatible with: | KME-001, KME-002, KME-003, KME-004, KME-005, KME-013 calligraphy pens |
| Place of Origin: | Japan |
Get a quotation! We can give you a discount based on your order quantity.
Packaging & Delivery
| | |
| --- | --- |
| Packaging Details: | Standard & safe packing upon your request! |
| Delivery Time: | 5-30 days after the order confirmation |
Features
Try our Kaimei calligraphy brush pens and a feel the "plug&play" experience!
You could use our calligraphy pens with these ink refill cartridges many times, over and over again.
It's much easier to simply switch the ink cartridge in your Kaimei brush pen and continue your calligrapy lesson, then to grind some more ink.
On the other hand it could be useful in situations where it would be troublesome to grind your ink or when you would like to draw a calligraphy as soon as possible.
The best feature of carbon ink or sumi ink is that it won't fade on paper over time even if exposed to sunlight or when bleached. Furthermore, since it is made of natural
materials, it's quite eco-friendly and it doesn't harm, weaken the strength of the paper that the Kaimei carbon ink is used on. Finally, this it is water soluble.
Try how good it feels to paint with carbon ink!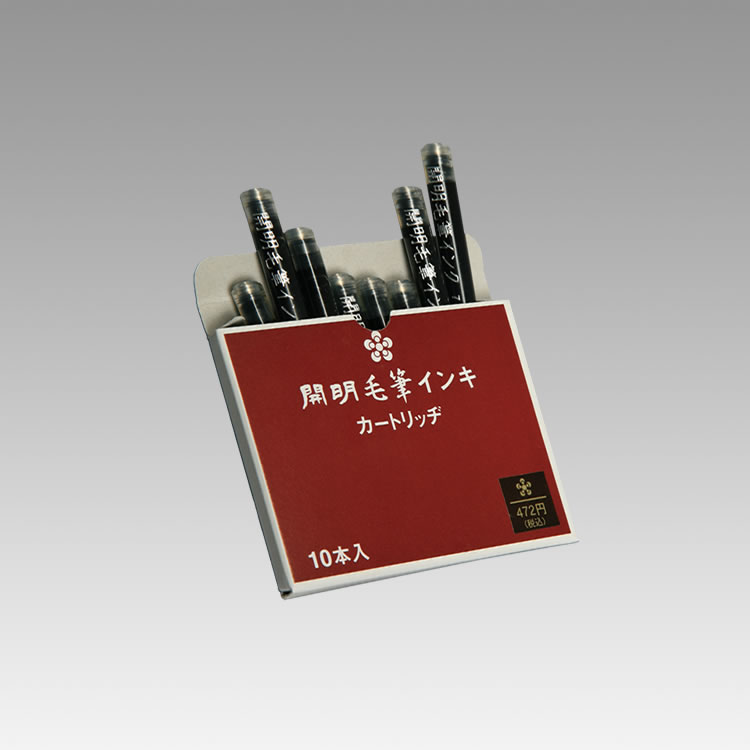 Our service
We are a professional Event Organizer Company. Day-by-day, we are handling many items which are somehow in connection with some of our events.
Our motto is: "If YOU are HAPPY, then WE are HAPPY!" which is abbreviated to:YOU HAPPY WE HAPPY.
…for us, this motto has a simple and practical meaning that:
Our customer's happiness IS our happiness!
Concretely, our spectrum of items consists of: Advertising Equipment,Apparel, Consumer Electronics, Funny good, Office School supplies, Restaurant Hotel supplies and others.
Mainly, we are specialized in selling products that are either MADE IN JAPAN or manufactured under JAPANESE SUPERVISION, which means that all items are of:
-outstanding, durable quality
-fine craftsmanship
-unique design
Presently, we are dealing with over 5000 items.
Achievements
Our company was founded in 1991.
Nowadays we are doing business with many major Japanese companies and up to now, we have organized more than 10,000 famous events in Japan.
Regarding international business, we have widened our sphere of action in order to reach people abroad without limits and boundaries.
To accomplish this goal, we have planted many seeds, and the shoots have already started growing out of the soil. As a result, we already have customers from New York City, Singapore and so on. In the meantime, we are planting more and more seeds, and waiting for all of them to sprout!