Hello to you all!!!
I hope everyone is doing well during these tough times.
Since we did have a lot of holidays and celebrations these past couple of months, I thought it would be a good idea to introduce party items.
Now, the next item I would like to introduce is a Japanese specific item.
If you watched anime, you probably know what they are.
I would like to introduce the Kusudama or the Japanese Piñata Ball.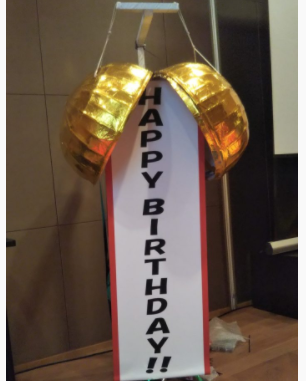 The Kusudama is widely used in Japan for opening ceremonies, parties and events.
The inside at least contains a long scroll with writing and decorative stings.
It can even contain confetti if you want to get more festive.
A person pulls the string underneath the giant ball and all the insides come out to reveal the writing.
The balls come in all sorts of sizes and colors, kind of like a piñata, minus the candy.

The writing can range from names to just congratulations, it depends on your event.
So increase the suspense and surprise with your very own Kusudama.
The writing on the scroll can be custom made to suit your event.
If you are looking for more tradition Japanese party goods, please have a look below.

If you are looking or if you know someone that is planning to do any rentals or events here in Japan, please let us know, or tell them about us.
If you have any questions about our products or services, please don't hesitate to ask.
We are here to help.
https://event21.co.jp/sin_051.htm (Japanese Piñata Ball)
Event 21 Homepage:
https://event21.co.jp/event_company.htm (English)
https://event21.co.jp/ (Japanese)
Mail:
global@event21.co.jp